October Event
Relax, De-stress, Rejuvenate.
Yoga and Wellness Retreat, Rostrevor, Northern Ireland.
4th – 6th October 2019 (Friday – Sunday, 2 nights)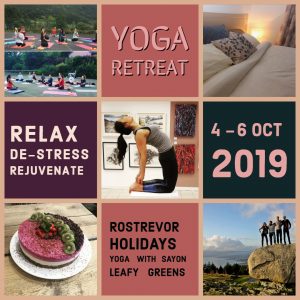 Sayon Cheung Mulligan (Senior Yoga Teacher – Yoga Alliance) will guide you through a yoga and wellness retreat at Rostrevor Holidays. Located in a tranquil environment in the foothills of the Mourne Mountains, you will find a place to quiet the noise. We intend to create an environment in which you can truly drop off the grid and recharge in nature and really engage with your surroundings and fellow yogis for a weekend of deep restoration.
Invest in yourself. Nourish your body and mind this October with a weekend of yoga suitable for beginners and upwards. The yoga classes will be complemented with meditation classes, guided mindfulness walk, the option of cold-water immersion, relax around a campfire with a mug of Neary Nogs hot chocolate cradled in your hands.
Leafy Greens & Co will provide you with a range of healthy plant-based meals and drink choices throughout your weekend.
Sample Weekend
The activities are optional, but it is best if you try to participate in most to embrace the experience.
Friday – Check in from 16.00
Welcome tea
Relax, meet & greet fellow retreat participants
18.00 – De-Stress Gentle Yoga 1hr. 30 min
20.00 – Dinner – Vegan/Vegetarian fare catered by Leafy Greens & Co.
Follow by getting to know the area, weekend agenda and each other
SATURDAY
7.30 am – Rise and Shine Yoga
9.00 am – Healthy Breakfast Buffet
10.30 am – Guided Hike in the Mourne Mountains
13.30 – Lunch- Healthy Vegetarian
Free time – Option to visit Rostrevor. Explore the grounds of Rostrevor Holidays. Take a cold-water in the on-site river.
18.00 Evening Yoga 1hr15min – Healings and released
19.30 Dinner – Vegetarian fare
21.00 Campfire Meditation (weather permitting) or indoors candlelight meditation
Follow by Hygge – Neary Nogs Drinking Chocolate and cosy blankets
SUNDAY
7.30am Yoga rise and shine 1hr 30 min
9.00 am. Breakfast
10.30 Breath work, focus on restorative and healing practice with movements 1 hr
12.30 Farewell Lunch & check out