My thoughts on why you should visit Northern Ireland.
Lonely Planet announced Belfast and The Causeway Coast as the number one region in the world to visit in 2018. With that in mind, I thought I'd share why I think you should start planning to Visit Northern Ireland.
The People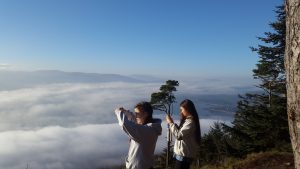 People in Northern Ireland are the happiest in the UK, according to National Statistics. There is no getting away from our troubled past, but from that has come the warmest of people. Guests often mention to me how friendly people are in the local villages and towns. In fact, many visitors that stay with us end up making friends from this area, and returning year on year to spend time together. So when you visit Northern Ireland, be sure to take some time to chat to locals. You will get a great insight into the place, and you never know where the adventure may take you.
The Food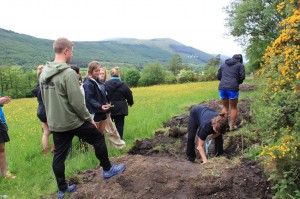 I'm not one for the Michelin-rated restaurants, though we have our fair share of those. For me, the food of Northern Ireland is what the locals eat, what we grew up with. When family and friends living abroad miss home, they talk about soda farls and potato bread, sausages from the local butcher, crisps from the Tayto Castle, and most important of all, a good cup of tea. I have to say I'm partial to some of SD Bells. Of course, when you visit Northern Ireland, you are going to have to try some of our local potatoes – though I doubt you have to go as far as planting and growing the potatoes yourself!
The traditional "Lazy Beds" for planting potatoes
It's Affordable
Sterling took a nosedive after the Brexit referendum and hasn't really recovered. This is good news for anyone visiting from a Euro region, or with dollars. If you're from the UK, then a staycation can be the wise idea for you. Plus, we're not overrun with tourists here, so you will find you get good value for money.
The Great Outdoors
My heart lies with The Mourne Mountains in County Down. Although easy to access, and with beautiful scenic drives throughout, the rugged terrain can be testing. Slieve Donard is the highest, sweeping down to the sea at Newcastle, whilst the Mourne Wall is a 22 mile long dry-stone wall that traverses some fifteen summits. There are many other options for those that want to escape outdoors, take a look at this great website Walk NI for some ideas.
Accessible
Sure it is only a "wee country". This means you can drive across the country in less than 3 hours. Which is great news if you want to stop and visit as many places as possible. Being a small country also makes staying in one place a good option. Have a base, and take day trips. Saves on the endless packing and unpacking!
The Leading Tourist Attraction
Titanic Belfast, located at the heart of Titanic Quarter – only a short walk from Belfast's city centre, is not only an architectural triumph for the city, but it houses the world's largest Titanic visitor experience.
The iconic six-floor building, featuring nine interpretive and interactive galleries that explore the sights, sounds, smells and stories of Titanic, as well as the City and people which made her, is an unmissable experience which brings history to life in an unforgettable way.