Size: 1530 ft²
Sleeps 7 | 3 ensuite bedrooms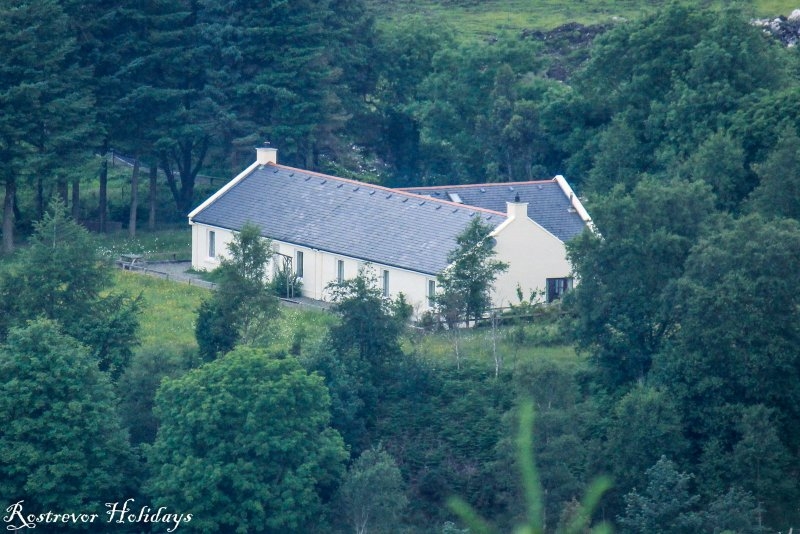 Arriving at Rostrevor Holidays, the driveway drops down into the valley below. 12 cottages share the same farm, with Owenabwee at the far end. So, if you are looking for peace and quiet, this is going to suit you best. Nestled between the Yellow Water River, and the Cross River, Owenabwee shares the space with a similar house, Carnaclasha. When the air is still, sitting on the garden furniture to the front of the house has to be one of the most relaxing things to do. At the front of the house, views lead down Kilbroney valley to Carlingford Lough, and across to the Cooley mountains. If you feel more comfortable inside, admire the view across the wildflower garden through the large windows. Two of the bedrooms, and the living room share this view down the valley.
The accommodation consists of 3 large ensuite bedrooms. Two of the bedrooms have twin (single) beds, whilst the third bedroom is a family bedroom, with 1 double and 1 single bed. The kitchen is fully equipped for making the most out of your self-catering stay. This includes a full oven, a large fridge, and perhaps most importantly, a dishwasher. The house also has a separate washing machine and dryer.When meeting up with friends or family you haven't seen in a while, the open-plan living area means that you won't miss out on the news – even if it is your turn on the cooking duty.
A large open-fireplace is an interesting feature of this house. The story behind it is one which resonates with families returning to visit shores that they once left behind. When Owenabwee was being built, Liam heard about an old cottage that was to be demolished in a townland nearby. Attical is a small village in the Mourne Mountains, high above Kilkeel. A parishioner had left home for America and sent home £1000 to build a house on the homeland. His dream was to eventually return. This fine traditional cottage boasted Bangor Blue slates on the roof, and a magnificent fireplace built from the Mourne Granite. Although no longer legal to quarry Mourne Granite, it was shipped far and wide. Indeed Liverpool is largely paved with Mourne Granite. Most recently Princess Diana's Memorial in London was made using Mourne Granite.
The Mourne Granite that was used to create this fireplace, had been painted many times over the years and thus built up a thick cloak of paint layers. After buying, the paint was stripped off, and a smaller hearth to suit a modern fire grate was created. To finish off the instalment, a replacement for the original Old Oak mantel needed to be found. The oak suffered from many years of neglect. Instead, a reclaimed pitch pine from the Old Forestbrook Mill in Rostrevor was used and is what you see today.
Your widget will appear here.
Is Owenabwee the right choice for you when thinking about luxury holiday cottages Northern Ireland?
Self-catering on holidays is ideal when you want a home away from home. The flexibility of having your own living spaces, with the comfort of good beds and hot showers. If you have a question, help is on hand, and local advice can help you make the most out of your stay.
Meeting up with friends and family is great fun, but it can also be exhausting! So make sure you have a nice spacious room to escape to. Sit and read a book by the picture frame windows, or take a hot bath in your ensuite to soak the tired muscles from a long day in the Mourne Mountains.
Owenabwee is one of our larger holiday houses at Rostrevor Holidays. This 3-bedroom house, with all bedrooms ensuite, proves popular with larger groups. In fact, it is booked repeatedly by multi-generational family groups, who see the benefit of having their own space but sharing a house. Also, in recent years we have seen it become very popular as serviced accommodation for those working in Northern Ireland. With two twin rooms and one family room, Owenabwee can accommodate up to 7 people.The sitting room has 2 sofas and an armchair, around the open fire. A dining table seats 6. The kitchen is outfitted in light oak, with Mourne granite counter tops. In the kitchen, you will find everything you need for your self-catering break. In addition, the kitchen is equipped with a dishwasher, washing machine, and a dryer.
Child Friendly
The large bedrooms in Owenabwee have carpet underfoot. Two of the rooms have 2 single beds (which can be moved together), whilst the third room has a double bed and a single bed. If you require a cot (or 3!) there is enough space without feeling cramped. Bedeck and Sanderson bed linen ensures a good night's sleep.
Owenabwee and Carnaclasha are similar houses, located slightly away from the other holiday cottages at Rostrevor Holidays. This provides that extra bit of peace and quiet. If you have a group of up to 14 people, renting these two houses together is an ideal solution.Nestled between the Cross River and the Yellow Water River, walk out your front door and you are immediately on our Yellow Water Nature Trail.
If you wish to get out and stretch the legs, Owenabwee is surrounded by 24 acres of farmland. Our Yellow Water Nature Trail runs past the house and offers up to 3km of walking along farmland and riverside. Keep an eye out for the patient heron waiting to catch some brown trout, or say hello to the ponies in the nearby field.
For those wishing to include a bit more activity, we have a tennis court on site, with a full-sized basketball net. For children, there is a small playground and very long slide.
Situated 2 miles outside the village of Rostrevor, Owenabwee is easily accessed from both Dublin (6o minutes by car) and Belfast (6o minutes by car). With a choice of 3 airports; (Belfast City, Belfast International, and Dublin) and 3 seaports; (Belfast, Larne, and Dublin), all under 2 hours drive.
Owenabwee is part of Rostrevor Holidays group of cottages located in the foothills of the Mourne Mountains and looking down towards Carlingford Lough. This means there is a multitude of options for you to spend your holiday. Either mountain biking on the world famous trails, or driving along the Mourne Coastal Route and stopping off to enjoy some local cuisine. If you wish to visit the Giant's Causeway or, this can easily be done in one day. Or take a trip down to Dublin city or up to visit Belfast Titanic.