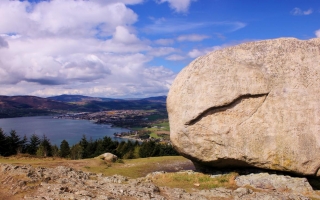 Cloughmor is Irish for "Big Stone", and nestling on the side of the Mournes above Rostrevor, you will find this 30-ton granite rock. It was deposited by retreating glaciers during the Ice Age, but around here we prefer to believe the local legend which tells a story of the giants Fionn MacCumhaill and Ruscaire in a fight. The stone was scooped up from the Cooleys by Fionn and thrown across the Lough.
This will give you a great viewpoint for the surrounding area, on a clear day you can see as far as the Wicklow mountains. When walking back to the car park, take the path to the left which goes steeply down the mountain, this will bring you to the "viewpoint" a nice place for a picnic, and from here, a path to the right will bring you back to the car park.
For those that want a bit more of a challenge, the reward of the views from the top of Slieve Martin are well worth it! The path continues on up past Clough Mor. Further details can be found on my blogpost a budget day trip in Northern Ireland. 
A walk from the car park will take under an hour.
Directions: Follow directions to Kilbroney Park, but continue on past the carpark, up the forest drive. There is a car park at the top of the driveway, and from here you can walk to Cloughmor.