A very busy summer season has left me little time to write new posts. In fact, it has left me little time to get to visit all the lovely places I suggest to my guests. However, now that the schools are back, I have had the chance to get out and about over the last couple of days. Castlewellan Arboretum was top of my list.
On Saturday, we took a spin over to Castlewellan Forest Park. A car journey will take about 25 minutes, with time to enjoy the wonderful scenery along the way. Despite having visited this forest since I was a young child, my adventures have always taken me in the direction of the lake, either in it, on it, or around it. In recent years the fantastic mountain bike trails are usually my reason for visiting the park. However, I had been hearing great work being carried out in the Arboretum by the Regeneration group. In 1741 The Annesley Family purchased Castlewellan Manor, and over the years developed a unique Arboretum inside and beyond the Walled Garden. The Annesley Garden Walk begins at Castlewellan Lake, taking the visitor through the Annesley Garden, National Arborteum and takes in a variety of Lakes and Ponds within the forest. A detailed brochure available from the Forestry Hut, or at the gate to the Walled Garden, gives great details. I was blown away by the amount of work that had been carried out, and full credit to those that have been involved.
Unfortunately my photos were very poor on my phone, so I have included some that I have taken from Walk NI website. I can't wait to get back and visit some of the other walks detailed on the Walking Trail Map I have included with this post.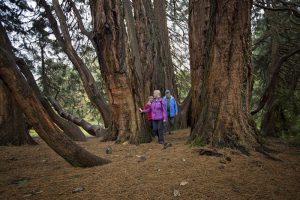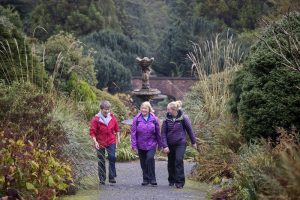 Castlewellan Walking Trail Map