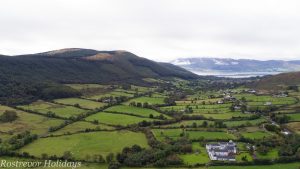 This past week in the run-up to St. Patrick's Day has been a busy one, though not in the way I had envisioned! Like all of you reading this, my plans were rudely disrupted. Emails full of excitement about upcoming holidays have been replaced by those that are worried about travel disruptions. For many, they have had to cancel their long-anticipated holiday to Ireland. My head is full of questions, and like a lot of you, it is also full of a lot of worries!
However, I have also been blown away by the compassion and warmth that I have been shown by our guests and friends. On many occasions this week, people have reached out to ask us how we are doing. They have seen that tourism has been impacted, and know that our small family business will be feeling the strain too. As someone with family members working on the frontline in the health service, I remind myself regularly that our trials aren't so hard.
Eileen (my Mum), has faced into it with the proper Northern Irish attitude. She said "We've been through worse before. We'll get through this." Herself and Liam have put themselves into self-isolation (for their own health). For those of you that know Liam, you will understand he is delighted to be able to spend time on his farm without visitors!
One of the positive outcomes of this? It makes you stop and think about all that we have to appreciate right now at this moment.
Didi