Mint Aero Traybakes
At least once a year we organise a fundraising event at Rostrevor Holidays. Recently it has been the popular Oh Muck! Mud Run. When we began, I aimed for enough people to raise a little bit of cash for our chosen charity. I decided to show our gratitude to the participants by providing some warm drinks and sweet treats after (they were climbing through muddy obstacles after all!) Each year the numbers entering the event has grown, and so too has the demand for the traybakes that follow the event. Following this, I get requests for the recipes. So finally I am sitting down to write some out. My great friend Nikki makes a fantastic version of these, far superior to any I have managed to create. So here is her recipe, although I think she was just born with the talent!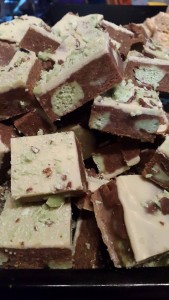 Mint Aero Traybake Ingredients
100g unsalted butter
200g milk chocolate – (I tend to use cadbury's dairy milk.)
3tbsp golden syrup
225g digestive biscuits broken down (own label products are great for this)
1 family bag Mint Aero Bubbles (halved)
Topping
½ family bag Mint Aero Bubbles (halved)
70g melted chocolate (either milk or white chocolate)
Method



1. Line a square 20x20cm tin with greaseproof paper.
2. Break the chocolate up into smaller pieces, and put in a microwaveable bowl. Add the butter and the golden syrup. Heat until melted, stirring occaisionally. Be careful not to let the chocolate burn - it is possible!
3. Smush up the digestive biscuits. You can do this by putting them in a bag and punching your rage out on them, or if you're lazy like me, bung them into a food processor.
4. Mix biscuit mix and chocolate mix together. Leave to cool slightly.
5. Add the halved mint aero bubbles.
6. Pour mixture in to tin, and flatten. (I find that putting a piece of greaseproof paper on top, then pressing down with your hand is the quickest way).
7. Pour the melted chocolate on top, and smooth out. You can then decorate with the remaining mint aero.
8. Put in fridge to cool, before slicing and devouring.
Top Tips
Use the chocolate you like to eat - I don't like to use cooking chocolate in these.
Let the mixture cool before you add the mint aeros otherwise they just melt and you can't see them.
Mint Aero Bars work just as well and may work out a lot cheaper.
If you prefer a bit more crunch, leave some larger pieces of digestive biscuit.